Well, Merry Christmas, you!!!
---
It's Day Four of the Top 10 of 2014 week, and today is all about our book boyfriends. Yes, plural, who are we kidding, we want them all. Book boyfriends are amazing; they're swoony or brave or funny, witty or smart, or sweet or misunderstood – they're works of art. These ten are my favourite book boyfriends of 2014, but shhh, keep it down – they don't know about each other!
I did rank them this time, because even though they're all amazing, I know I'll never recover from certain ones.
10. Balthazar from Mortal Heart by Robin LaFevers
Balthazar, to me, is the steady boyfriend. The one like still waters you want to plunge into. He's the one who lies beside you, his breaths synced with yours, and that's all you need, that's everything you need. He's far too harsh on himself and beneath the man who leads the Hunt, he's just someone looking for love amidst Death.
We are all of us, gods and mortals, made up of many pieces, some of them broken, some of them scarred, but none of them the total sum of who we are.
9. Mather in Snow like Ashes by Sara Raasch
Oh look, it's Mather. Yes, Mather because I still love him. I need Meira and Theron to be together but Mather is just yes. He's strong as steel and fierce as hell. But it's okay if he and Meira don't get together because (duh), I'm his true girlfriend, anyway. Meira has him on loan. Mather is the best-friend boyfriend, the one that knows everything about you, and he's protective and possessive of Meira in the sweetest way, but caught between his responsibility to his kingdom and it's all so…tragic. It's okay, Mather. You've got a (girl)friend in me.
Mather has always been a king, every moment of his life.
8. Theron in Snow like Ashes by Sara Raasch
Having seen so many reviews of Snow like Ashes before reading it, I noticed one thing was consistent among them all: this utter love and devotion to Theron. And I'm reading the book, and Theron hasn't come in, and it's all Mather, and I'm like, Who the heck is this Theron kid and how can he even begin to compete with Mather?
I get it. I was wrong; so, so wrong. Theron is like, *swoons*. He is swoons italicized. He's got a poet's heart and he's just so sweet and understanding of Meira's situation that I can't help but melt. He's determined to help her however he can. Theron and Meira are my OTP, forever.
"You matter."
7. Azriel in The Gypsy King series by Maureen Fergus
Azriel was one of the book boyfriends I fell for the hardest. He's charming and witty and totally aware of it. He could seduce your pants off – and all the better, since he could then assume his first thorough duties as Master of Bath. He got very personal with Persephone, and *whew!* things got hot. Aside from his ultimate sexiness, Azriel is a fighter. He doesn't back down when things get messy. He vows to protect Persephone with his life and he takes it very seriously. All in all, definitely the kind of guy you'd want by your side.
It was a truly lovely thing to be cherished by a man who had eyes for none but her and who acted as though she were more beautiful than the stars, more fragile than blown glass, and more precious than a bucketful of jewels.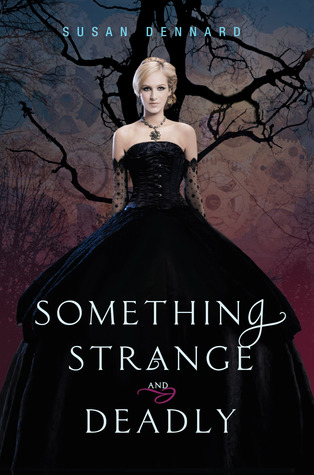 6. Daniel in the Something Strange and Deadly Series by Susan Dennard
Daniel is a strong, brave kind of boyfriend. He's the boyfriend that you have this crazy tension with and then it just completely explodes into something you'll never be able to contain. In Strange and Ever After Daniel puts his entire life into battling Marcus, and it's that kind of bravery that makes me weak in the knees – and in the heart.
We waddled through life blindly, hoping to find something—and someone—worth fighting for.
5. Warner from Unravel Me by Tahereh Mafi
It's official. I'm in love with a villain. Don't ask me to explain why, but just like Juliette, something about Warner pulls me to him. He does terrible, terrible things without a smidgeon of regret, but the way he feels about Juliette? His desperation to protect her and have her love him? For some reason, it's not creepy or off-putting; pathetic, perhaps, but endearing, all the same.
I want to know where to touch you. I want to know how to touch you. I want to know how to convince you to design a smile just for me…I want so many things…I want your mind. Your strength. I want to be worth your time…Every inch of you. I want all of it. 
4. Finn in the Cahill Witch Chronicles by Jessica Spotswood
Firstly, I love Finn's name! Finn is one of my ultimate boyfriends: he's caring and understanding, he fights for the people he loves, he's reader, and he is a great kisser. If he can makes Cate swoon so hard she pops out a shower of feathers, you know he's doing something right. With his spectacles and his freckles, this is the boyfriend I'd spend all day kissing.
You, in the moonlight, in this library, in this dress…Its the most beautiful thing. Like a dream.
3. Chaol in Crown of Midnight by Sarah J. Maas
I ship Chaol and Celaena so hard, and if that ship sinks, it's okay, because I'll be waiting beside Chaol in a rowboat. I feel like Chaol is another steady boyfriend. He knows, for the most part, exactly what he needs to do – and he does it. I love the way he doesn't gloss over the rough parts of Celaena, but sees all of her. He's fiercely loyal and if he's that good with his sword… you know?
She was still in her clothes, and while she looked beautiful, that did nothing to mask the killing potential that lay beneath. It was present in her strong jaw, in the slope of her eyebrows, in the perfect stillness of her form.
2. Kenji from Unravel Me by Tahereh Mafi
Kenji.
Kenji is the boyfriend whose name you say on a sigh, smile tugging at your lips, eyes wistful. He's funny and snappy; he's the boyfriend you can joke around with and have a great, playful time. But Kenji (*sigh*) can also be serious as hell. He speaks the truth as he sees fit. When he needs to, he says it flat out, says everything he needs to, does everything required to get shit done. And it's sexy beyond words. This is when I completely, utterly fell in love with him:
*Setting Juliette straight* Now I am trying, to give you a chance to fix things. I keep giving you opportunities to do things differently. To see past the sad little girl you used to be – the sad little girl you keep clinging to – and stand up for yourself. Stop crying. Stop sitting in the dark counting out all your individual feelings about how sad and lonely you are. Wake up. You're not the only person in this world who doesn't want to get out of bed in the morning…So make a choice. Make a choice and stop wasting everyone's time. Stop wasting your own time. Okay?
1. Cricket in Lola and the Boy Next Door
I'm so tempted to say that Cricket is my ultimate book boyfriend. I really am. He was just…magnificent. I think that's the only word for it. Cricket is so caring (he doesn't try to steal Lola from Max) but he makes his feelings and his position clear – I like that. I really like that. He's quirky and good with parents. Cricket's a little tough on himself but he's strong and he'll do anything for me Lola. This quote sealed my love for him:
One day, the boy had to move away. He couldn't bring the girl with him, so he brought the stars. When he'd look out his window at night, he would start with one. One star. And the boy would make a wish on it, and the wish would be her name.

At the sound of her name, a second star would appear. And then he'd wish her name again, and the stars would double into four. And four became eight, and eight became sixteen, and so on, in the greatest mathematical equation the universe had ever seen.
Oh my gosh, that still gives me chills.
Tomorrow is the last day in the Top 10 of 2014 Week, and we're going to be looking forward to all the beauts coming out in 2015 that we are excited to read, fangirl and cry over!