It's finally here!!
New drama, Pinocchio aired on November 12, and the subs were completed by yesterday, November 13th on Viki.com. 
I have been SO excited to watch this drama, and the first episode definitely did not disappoint!
Can 20-something rookie broadcast reporters make their mark covering the bustling news of a busy metropolitan city? The idealistic Choi In Ha (Park Shin Hye) has her work cut out for her when she becomes a broadcast journalist, especially when she suffers from a condition known as "Pinocchio syndrome," which makes her break out into hiccups whenever she tells a lie. Her rookie colleagues include Choi Dal Po (Lee Jong Suk), whose shabby appearance masks his true eloquence and sharp memory; Seo Bum Jo (Kim Young Kwang), a wealthy heir who has had everything handed to him in life; and Cha Hye Seung (Lee Yoo Bi), whose fangirl knowledge comes in handy in covering the news. Can the 20-something newbie reporters pursue justice as they try to discover themselves in the process?
The premiere of Pinocchio had a great mix of laughter and tears – advertised as a melodrama, did we expect any differently?
The first half is very funny and already there's some intrigue set up by main character Choi Dal Po (Lee Jong Suk). The wigs and wig styles in this drama are hilarious, and I'm not sure whether that's on purpose or not! Most of the end half is where the melodrama really kicks in and while there's a little mystery around some of the backstory, most of it is just some information of our male and female lead. I have to admit, I cried a lot, and there was some irony to one of the events – if you're a regular k-drama watcher, you'll probably notice it too!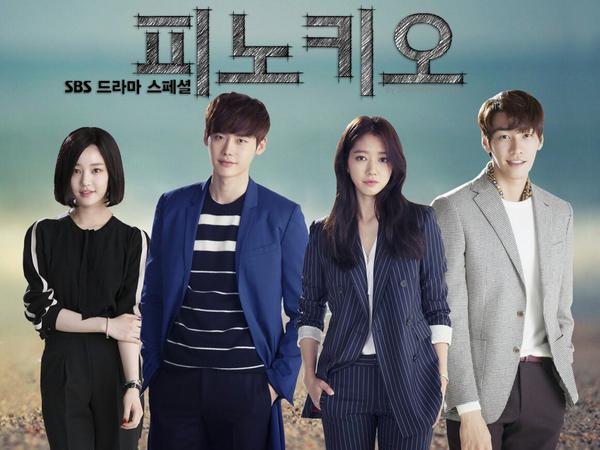 So far the cast looks great! There's a lot of familiar faces and I was shrieking and pointing at the scream as they appeared. Some actors and actresses I was glad to see again were Lee Pil Mo (second male lead from Emergency Couple), Jin Kyung (from the main cast of It's Okay, That's Love), and the beloved Kim Kwang Kyu (loved him in I Hear Your Voice). Main female lead Park Shin Hye and main male lead Lee Jong Suk didn't really get a lot of screen time, but that's really because there was a lot of flashbacks to when they were younger.
Speaking of the flashbacks, that's one thing I didn't like about this episode. Around forty-five minutes of the episode was all flashbacks, and while I understand why they had to do it (it would have been perhaps a little weird all chopped up into bits here and there), I wasn't a fan of it. Another thing that irritated me had to do with some of the people's reactions to things that happened. This had nothing to do with the acting, but with the irrationality of their reactions, and I can't tell if that's just because of scriptwriting, or if people in real life can really be that cruel.
On the whole, I thought this was a fantastic start to the drama. I laughed out loud, I definitely cried, and I can't wait to watch the next episode!