This is the message I must pass on, the one goal I have to remember after everything else I am is gone.
Kill Paul Markov.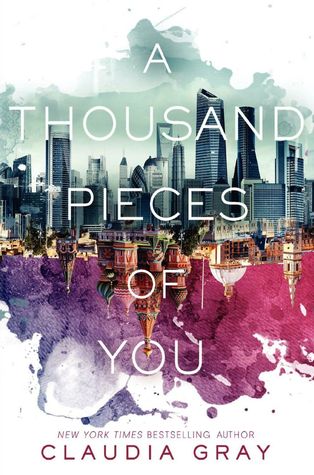 And so it begins. Guys, this is a roller coaster. If I had to describe it, it would be a rollercoaster that somehow carries you into another amusement park entirely and then drops you about fifty feet. A Thousand Pieces of You is a breathtaking ride that will carry you from one universe to another, but stay with you forever.
Marguerite Caine's physicist parents are known for their radical scientific achievements. Their most astonishing invention: the Firebird, which allows users to jump into parallel universes, some vastly altered from our own. But when Marguerite's father is murdered, the killer—her parent's handsome and enigmatic assistant Paul—escapes into another dimension before the law can touch him.

Marguerite can't let the man who destroyed her family go free, and she races after Paul through different universes, where their lives entangle in increasingly familiar ways. With each encounter she begins to question Paul's guilt—and her own heart. Soon she discovers the truth behind her father's death is more sinister than she ever could have imagined.

A Thousand Pieces of You explores a reality where we witness the countless other lives we might lead in an amazingly intricate multiverse, and ask whether, amid infinite possibilities, one love can endure.
I fell in love with this cover first – which is just as stunning in real life – with its watercolors and the inverted city. I mean, look at it, its stunning. Then, I fell in love with the book description: universe-hopping? Amazing. Now I'm head-over-HEELS for the book itself.
A Thousand Pieces of You is a fast-paced novel. I never felt like the book stagnated and we were always jumping from one universe to another, one body to another, one plot piece to the next, and it was just spectacular. I had so many "oh my gosh" moments, the end of my notes for this book end like this:
Holy $#@! she didn't! What the hell is going to happen now?

This story is insane!!!

HOLY %$%@# THIS STORY IS INSANE!!!!
There was one part of the book that I guessed pretty fairly, but honestly, I was blindsided more than once, which I loved. This book drops you right in the middle of the action: things are already happening and I'm scrambling to pick up the pieces – in a good way. You find out a lot of information as the book goes on as Marguerite kind of jumps into the past to do some fillers. I found that this really worked, especially because this background information could have slowed down the story if it had been put in a normal sequential order.
Marguerite is clever and resourceful. She's a great character and I found her to be pretty real – even if she did make a HUGE decision that I wasn't entirely comfortable with! Other than that, she was a likeable character. She grew a bit in the story, and now I want to see how she continues to change in the series. Theo was a pretty great and funny – and hot, definitely hot – character, flaws and all. He was surprisingly absent for a lot of the story, but from what we do see, he seems great. Paul was…interesting, the say the least (ie., sans spoiler!), but he's definitely got a few surprises in store.
Overall, I would recommend this book to all Claudia Gray fans and all sci-fi fans. I thought it was really interesting and there's a lot set up so what happens in the next book is pretty much up in the air right now. It was fantastic, right from the start through to the end; very importantly, it ended in a way that I can bear the long, long wait for the next book, but I'm still antsy enough to be looking for it before it hits the shelves!