One star. And the boy would make a wish on it, and the wish would be her name…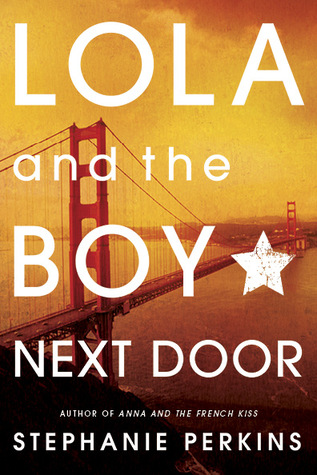 Lola Nolan is a budding costume designer, and for her, the more outrageous, sparkly, and fun the outfit, the better. And everything is pretty perfect in her life (right down to her hot rocker boyfriend) until the Bell twins, Calliope and Cricket, return to the negihborhood. When Cricket, a gifted inventor, steps out from his twin sister's shadow and back into Lola's life, she must finally reconcile a lifetime of feelings for the boy next door.
---
…At the sound of her name, a second star would appear. And then he'd wish her name again…
Oh my gosh. Lola and Cricket. I said before that I liked the first book (Anna and the French Kiss), and Anna's story better. Boy, was I wrong! I certainly started that way though. In terms of plot, I felt like Anna's story gave me more – more content, more conflict – but Lola was all about feeling. It was about connection and relationship and figuring out who you are and what you want so that you could figure out who you want. And, even though Lola and the Boy Next Door was more interpersonal, the story still flowed really well. Stephanie Perkins has this amazing sense of writing and humour, and I LOVE HER USE OF CAPITAL LETTERS. I also liked that we still get to see Anna and Etienne, but more than that, we get little updates into how their relationship is progressing. We're not losing old characters entirely, but we get to still see them in the peripheral of new and wonderful characters.
…And the stars would double into four. And four became eight, and eight became sixteen, and so on…
Cricket was delightful! He's this combination of quirky-awkward-insecure-larger-than-life boy and I would give nearly anything to live next door to him. I like that he didn't push Lola or push his feelings about her boyfriend, Max, even if he couldn't entirely hide his reaction to it. I love that he makes Lola want to try harder and be better, and that he sees her in and out of costume and is still bonkers for her.
I can't lie, I didn't like Lola at first. I didn't really relate to her. She was immature and selfish and indecisive – the fence was practically her second home! But as the book went on, I realized that all of this was no reason to not like her. Yes, she's selfish and immature, but she's young. Weren't most of us like that at her age? But more than that, she's funny, and daring, and unafraid, and strong, and just spectacular. I really grew to love Lola, especially when she starts making the hard – but necessary decisions – and in terms of her indecisiveness, her unwillingness to let go of a bad relationship, I think there's a bit of Lola in all us when it comes to romance.
I'm planning on thrusting this book into the arms of anyone who asks for a contemporary romance. Another thing that's so great about this book is that it can work as a single, standalone read, or as part of the Anna and the French Kiss series So, for me, Lola and the Boy Next Door was perfect, and if this trend continues, I'm expecting Isla and the Happily Ever After to be even better.
…In the greatest mathematical equation the universe had ever seen.