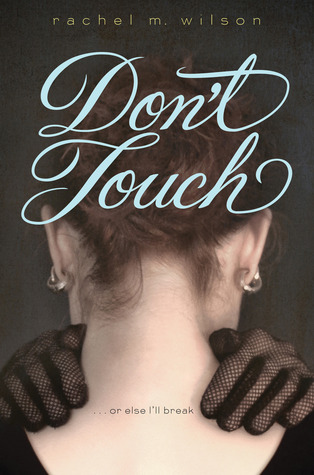 It's September!
September means all kinds of things: the approaching fall seasons, pumpkin spice lattes everywhere, new school years, but most importantly, as with all new months: books!
September seems to have so many interesting releases and one of them is Don't Touch by Rachel M. Wilson. Don't Touch is releasing today so in honour of this book birthday, I read the sampler to get a glimpse of this book and decide whether or not I wanted to buy it today.
So what did I think?
---

Step on a crack, break your mother's back. Touch another person's skin, and Dad's gone for good.

Caddie can't stop thinking that if she keeps from touching another person's skin, her parents might get back together… which is why she wears full-length gloves to school and covers every inch of her skin.

It seems harmless at first, but Caddie's obsession soon threatens her ambitions as an actress. She desperately wants to play Ophelia in her school's production of Hamlet. But that would mean touching Peter, who's auditioning for the title role—and kissing him. Part of Caddie would love nothing more than to kiss Peter—but the other part isn't sure she's brave enough to let herself fall.
---
Don't Touch feels a lot of like OCD Love Story, which I read and reviewed last year. They both have the same concept – teenage girls with anxiety orders and, possibly OCD, who meet a boy, which causes all sorts of problems. So far though, I'm not feeling the same connection and interest for Don't Touch as I did for OCD Love Story.
So this sampler is roughly 90 pages, and right off the bat, we are introduced to the premise of the plot – don't touch. And in those 90 pages I feel like the feeling of "don't touch" comes up far too often. Although one aspect of anxiety disorders and OCD may be that the thought is almost impossible to eradicate, but the way it was executed made it feel repetitive rather than pressing. And this was one issue I have with the book (so far): there's too much telling, and not enough showing. Caddie is telling me about her family problems and telling me about her disorder, but because it's not being shown enough through action and events, I'm not connecting to the story. As a result, at one point, I knew I was supposed to be having an emotional reaction but I wasn't connected enough to experience it.
As a narrator, I really like Caddie. I love her sense of humour, and in real life, I love that genre of humour. I don't like her friend Mandy, and I'm not entirely sure if I'm supposed to or not. Right now, I can't help but think that Mandy is a terrible friend – not to Caddie, but others. She clearly cannot keep confidences and doesn't know discretion. Grr. Right now, Peter is kind of there. I'm not feeling a connection to him, and I'm not believing Caddie's connection (maybe connection?) to him either.
I was really hoping to get a gritty rawness like in OCD Love Story, but perhaps this book will have its own unique merits. Right now it's not looking like I'll be buying this book.
Read the sampler here: