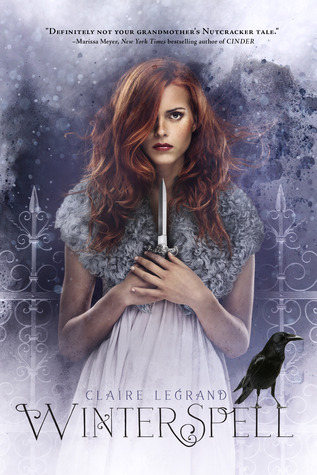 September is full of exciting new releases!
This week's Waiting on Wednesday is out September 30th, rounding out what looks to be a promising month of new books. Winterspell by Claire Legrand sounds like a mix of fantasy and fairies all set in the 1800s, a winning combination. 
---
New York City, 1899. Clara Stole, the mayor's ever-proper daughter, leads a double life. Since her mother's murder, she has secretly trained in self-defense with the mysterious Drosselmeyer.

Then, on Christmas Eve, disaster strikes.

Her home is destroyed, her father abducted–by beings distinctly nothuman. To find him, Clara journeys to the war-ravaged land of Cane. Her only companion is the dethroned prince Nicholas, bound by a wicked curse. If they're to survive, Clara has no choice but to trust him, but his haunted eyes burn with secrets–and a need she can't define. With the dangerous, seductive faery queen Anise hunting them, Clara soon realizes she won't leave Cane unscathed–if she leaves at all.

Inspired by The Nutcracker, Winterspell is a dark, timeless fairy tale about love and war, longing and loneliness, and a girl who must learn to live without fear.
What first caught my eye about this book was the title and the cover. Winterspell has a whimsical lilt to it that fits in well with the element of fairies. And the cover. Not a fan so much of the girl (no offense), but I love the icy background and the font is the perfect combination of swirls and stiff capitals.
In terms of the book itself, I love the historical aspect and this faery queen sounds like she is going to be my favorite character – not sure why, just getting a feel here. I'm also looking forward to seeing how The Nutcracker influences the plot and movement of story.
September 30th! Mark your calendars!