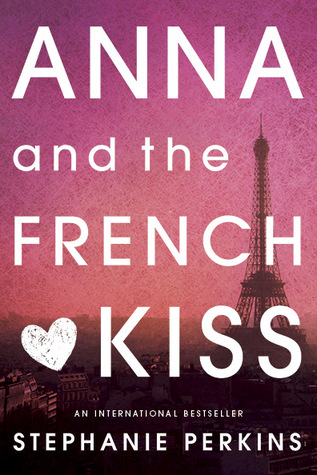 If your Twitter is anywhere near as book-centered as mine, then you probably know that recently, Isla and the Happily Ever After (third book in the Anna and the French Kiss series) has been everyone's want-to-read, must-buy, new fave, or some other expression of book excitement. After scrolling through countless Twitter posts, I decided to read Stephanie Perkins and see for myself whether it was all just hot air and smoke.
Was it?
---
Can Anna find love in the City of Light?
Anna is happy in Atlanta. She has a loyal best friend and a crush on her coworker at the movie theater, who is just starting to return her affection. So she's less than thrilled when her father decides to send her to a boarding school in Paris for her senior year. But despite not speaking a word of French, Anna meets some cool new people, including the handsome Étienne St. Clair, who quickly becomes her best friend. Unfortunately, he's taken —and Anna might be, too. Will a year of romantic near misses end with the French kiss she's waiting for?
---
If there was hot air and smoke, it's because Stephanie Perkins is on fire!
This book was perfect. It's a contemporary book, but there seems to be something more to it than most romantic-comedy contemporaries. My favourite thing about Anna and the French Kiss was the characters. They were so well-rounded and real that I felt that I could bump into them in a cozy coffeehouse in my own city. These are the kind of people that become part of my fictional friend posse (yes, posse, I am that cool). Anna, I really liked. She is hilarious when she's mad, and when she relating the tale of the Thanksgiving dinner disaster, I was dying of laughter – WHERE'S THE SALT! I also liked Etienne, even if I did wish he would get his shit together. But even still, I thought he was an accurate teenage boy, or just teenager in general, because none of us truly have our shit together. My favorite character was Rashmi, because she just seemed so chill and, despite her own problems, was a pretty good friend to Anna and the rest of their group.
This is a story I have no complaints about. I felt like the events flowed really well from each other, and nothing – reactions, events – seemed out of character or awkward. Like I said, Stephanie Perkins is on fire.
Seeing as I have the next two books in the series to buy (Lola and the Boy Next Door and Isla and the Happily Ever After), I'll leave you with these in-book quotes:
Because I was right. For the two of us, home isn't a place. It's a person. 

But the only truth I know is what I feel when we're together.