Vault of Dreamers by Caragh M. O'Brien popped up on my radar after a Twitter bibliophile mentioned she read the ARC and had tumbled hopelessly in love with it. Also, having read the Birthmarked trilogy by O'Brien and having loved it, I decided that Vault of Dreamers is a book I had to check out.
MacTeen, awesome people that they are, have put up chapters 1-5 of the book (link to download below), and so of course, I had to take a peek at what the book has in store.
Here's a look at what the September release is about…
---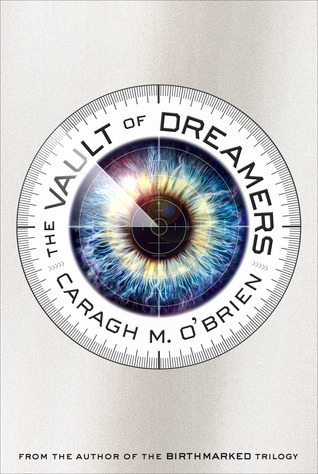 The Forge School is the most prestigious arts school in the country. The secret to its success:  every moment of the students' lives is televised as part of the insanely popular Forge Show, and the students' schedule includes twelve hours of induced sleep meant to enhance creativity. But when first year student Rosie Sinclair skips her sleeping pill, she discovers there is something off about Forge. In fact, she suspects that there are sinister things going on deep below the reaches of the cameras in the school. What's worse is, she starts to notice that the edges of her consciousness do not feel quite right. And soon, she unearths the ghastly secret that the Forge School is hiding—and what it truly means to dream there.
---
The premise of this book definitely calls to mind The Truman Show, only they all know they're part of a TV show and I get the feeling that there's a much darker twist to the things they don't know.
The first five chapters of this book seem really interesting. There is a subtle but distinct world building in the description of the Forge School and Forgetown. The fantasy of the Fore School has the feel of a very possible reality, and that makes it all more intriguing as a setting.
The main character, Rosie, seems okay right now. We're getting to know her slowly in these first few chapters, but already her actions show that she has a small badass-ness hidden in her and I hope circumstances will allow her to whip it out. So far, I'm loving Burnham a lot. He seems like such a chill, down-to-earth guy and I can't wait to see his character flesh out.
As always, the sampler ends right when my instincts start telling me we've crested the first hill and we're about to take that first plunge into the heart of the story.
Make sure you check this out one, guys; it seems like Rosie is about to discover what kind of beautiful nightmare the Forge School really is.
Read the first five chapters for The Vault of Dreamers here: http://www.macteenbooks.com/chaptersamplers/