Today I bought two more books from Chapters to add to my growing bookshelf! I've always loved reading, but buying books is something relatively new to me, now that I can afford to buy books more frequently. I can't wait to see my summer purchases combined with my fall purchases when I go back to my house in Ottawa!
Joining the stacks are OCD Love Story by Corey Ann Haydu and Icons by Margaret Stohl!
---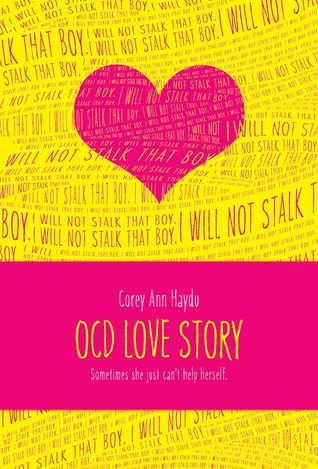 When Bea meets Beck, she knows instantly that he's her kind of crazy. Sweet, strong, kinda-messed-up Beck understands her like no one else can. He makes her feel almost normal. He makes her feel like she could fall in love again.
But despite her feelings for Beck, Bea can't stop thinking about someone else: a guy who is gorgeous and magnetic… and has no idea Bea even exists. But Bea knows a lot about him. She spends a lot of time watching him. She has a journal full of notes. Some might even say she's obsessed.
Bea tells herself she's got it all under control. But this isn't a choice, it's a compulsion. The truth is, she's breaking down…and she might end up breaking her own heart.
---
I'm really interested in reading this book. Since starting (but not yet finishing) Say What You Will, I've been looking for books with characters that aren't "perfect", who may even be far from it – physically or mentally. OCD Love Story seems like it will be a sweet, endearing, and maybe a little heart-twisting. I've started it and so far have had more than one laugh out loud moment! This is one I'm looking forward to finishing.
---
Everything changed on The Day. The day the windows shattered. The day the power stopped. The day Dol's family dropped dead. The day Earth lost a war it didn't know it was fighting.
Since then, Dol has lived a simple life in the countryside — safe from the shadow of the Icon and its terrifying power. Hiding from the one truth she can't avoid.
She's different. She survived. Why?
When Dol and her best friend, Ro, are captured and taken to the Embassy, off the coast of the sprawling metropolis once known as the City of Angels, they find only more questions. While Ro and fellow hostage Tima rage against their captors, Dol finds herself drawn to Lucas, the Ambassador's privileged son. But the four teens are more alike than they might think, and the timing of their meeting isn't a coincidence. It's a conspiracy.
Within the Icon's reach, Dol, Ro, Tima, and Lucas discover that their uncontrollable emotions — which they've always thought to be their greatest weaknesses — may actually be their greatest strengths.
Bestselling author Margaret Stohl delivers the first book in a heart-pounding series set in a haunting new world where four teens must piece together the mysteries of their pasts — in order to save the future.
---
Icons released last year in 2013, and though I started it, for reasons I can't quite remember, I didn't finish the book. Hearing about the sequel, Idols, which released in July, I decided to go back and give it another try. My foggy memory tells me that until I stopped reading it, the book seemed quite promising. Hopefully my memory doesn't fail me.