As long as there was breath, there was hope…
Tomorrow's Kingdom starts off with an explosion of action and emotion. The conclusion to the tangled web we encountered in the first two books, The Gypsy King and A Fool's Errand, the final book in the series was not perfect, but beautifully and masterfully crafted.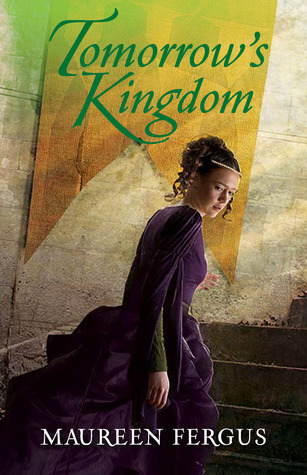 ---
Persephone has once again broken a promise to Azriel – but only to protect him from certain death at the hands of the Regent Mordecai. Now she finds herself desperately alone and burdened by responsibilities she would do almost anything to escape. But the days of putting her own needs first are long past, and when it becomes clear that Mordecai and Lord Bartok will sacrifice anyone and anything in their battle for control of the kingdom, Persephone knows she must find a way to thwart them both.

She also knows she cannot do it alone. 

Does Persephone have the courage to survive the challenges she will face along the way? Will she ever again feel Azriel's powerful arms around her? And what does any of this have to with the prophesied Gypsy King and the role he will play in tomorrow's kingdom?
Last time I was up until 3AM finishing A Fool's Errand. This time, I beat my personal record and finished at 2AM. Sleep be damned.
Either I forgot how brilliant the intensity of Maureen Fergus' writing is, or this book just rocketed from its already spectacular levels. High intensity, deep-running emotions, well-thought out motives, all steamrolling you from different perspectives had me engulfed in this story.
This book starts off marvellously. There's a huge ohhh my gosh, this changes everything moment right off the bat. It's a delicious and unique plot twist, unlike many YA of this genre, and after I got over my initial shock I loved it because it added a dose of realism to this fantasy world.
I thought the best part of the book happened towards the end. In terms of plot and writing, Maureen Fergus was genius. She played the story so well, drew it out in such a way that I was delighted and furious and eager to keep reading all at the same time. Just when I thought things were over, and we were only left with tying the loose ends and a "The end", Fergus was at it again. 
And as always, I was awed by her talent for painting the grotesque. Mordecai is a chilling and amazingly rendered character; the sort of villain you can truly appreciate. His defeat was ironic and though at first I was unsatisfied by it, by the end of the book, I was thoroughly pleased and amused.
Persephone and Azriel. Their chemistry was off the charts in this book, something that I both liked and disliked. Tomorrow's Kingdom definitely shows more sexiness in their relationship, and a playful intimacy which I loved, but sometimes I felt was happening too often. Perhaps we can chalk it up to young hormones, but I wished that the sexiness would have been toned down just a bit, so that when it flared up, it was more precious. Although, I truly don't think anyone would complain if a certain Master of Bath were to show up at their doorstep, soap and sponge in hand to fulfill his rightful duties. Much less if he decided that to thoroughly accomplish such responsibilities, he had to bare his chest and join…
Sorry. Getting off topic. Maureen Fergus, what have you done to me? As if I didn't have enough fictional boyfriends, now I must add a dastardly handsome Master of Bath, not to mention prince consort to the list? However will I manage?
I'll find a way. Because one of the central themes in Tomorrow's Kingdom is hope. And I thought Maureen did a splendid job of weaving together the idea of hope and tomorrows together:
[Persephone] revelled in the knowledge that the three of them would be together tomorrow and for a thousand tomorrows thereafter.
I enjoyed how this book pulled together the main themes from the previous books – the prophesy of the Gyspy King and the magical healing pool they search for – even when I thought they were long done with. One of the reasons this book was so satisfying to me as a conclusion is because everything is brought together with a final seam.
But like I said before, Tomorrow's Kingdom was not flawless for me. I wish that I could have seen certain events flesh out a little more. At times the plot was furthered by information garnered outside of the action of the book. Given that the book is told from several perspectives, I would have really liked to witness the entire unfurling of those events through the eyes of different players in the book. Also, especially towards the end, the timeline sped up, jumping from weeks to months, so it was a little hard to track the progression of the story, time-wise.
Overall, I loved this book as much as the first two, and it's a trilogy that I'll smile at fondly when I see it on my shelf. Every adventure, blunder, heart-wrenching smile, and loss was one I am loathe to leave behind as I close  the final page. We discovered the prophesy of the Gypsy King with Persephone and Azriel, and then followed them on their fool's errand; we hoped and dared to dream about their tomorrow's kingdom; and through it all, we loved the beautiful and bold slave-turned-queen Persephone, and her prince consort (more importantly, Master of Bath) Azriel.
Maureen Fergus, I thank you with all my heart for this crazy, wonderful adventure.