First, I have to say I am loving these Kobo samplers!! Just one great thing about ebooks!
Mortal Danger first caught my attention because I read Ann Aguirre's Enclave (though I haven't finished th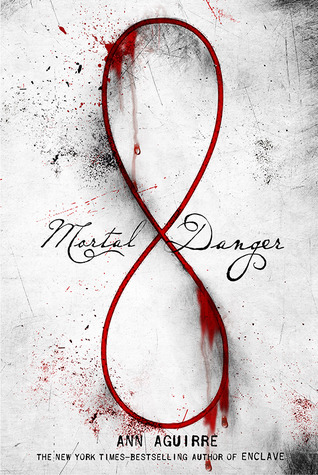 e series yet so, shh! No spoilers) and I love to follow authors and see what new books are popping out of their beautiful minds.
 Edie Kramer has a score to settle with the beautiful people at Blackbriar Academy. Their cruelty drove her to the brink of despair, and four months ago, she couldn't imagine being strong enough to face her senior year. But thanks to a Faustian compact with the enigmatic Kian, she has the power to make the bullies pay. She's not supposed to think about Kian once the deal is done, but devastating pain burns behind his unearthly beauty, and he's impossible to forget.

In one short summer, her entire life changes, and she sweeps through Blackbriar, prepped to take the beautiful people down from the inside. A whisper here, a look there, and suddenly… bad things are happening. It's a heady rush, seeing her tormentors get what they deserve, but things that seem too good to be true usually are, and soon, the pranks and payback turns from delicious to deadly. Edie is alone in a world teeming with secrets and fiends lurking in the shadows. In this murky morass of devil's bargains, she isn't sure who—or what–she can trust. Not even her own mind…
The premise of this book kind of reminded me of A Fate Totally Worse than Death by Paul Fleischman, but from the opposite perspective. Kobo has the first five chapters of Mortal Danger up for reading (link at bottom) and I knew I had to sample what Ann Aguirre is about to serve up!
The first five chapters make it really clear that this is just a sampler, which was a little disappointing. What we're given is more the set-up to the story than the beginnings of our plot – it's our lead in. We meet our characters and go through what enables this plot to take place. The writing was well done, of course, with some humorous bits thrown in. We are given some hints to bigger things (like, really, what is this mysterious accident that broke her?!), and it's enough to make me want to buy the book once it releases.
The main character, Evie. There's something just a little off about her. I couldn't figure it out at first, but when she described the people who had killed themselves as "success stories", it really hit me. She's a little scary, and that's only going to add fuel to her revenge fire.
Mortal Danger is definitely on my to-read list.