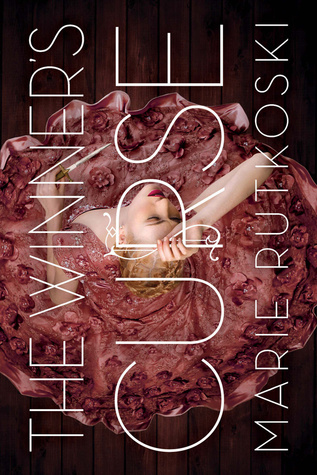 Winning what you want may cost you everything you love

As a general's daughter in a vast empire that revels in war and enslaves those it conquers, seventeen-year-old Kestrel has two choices: she can join the military or get married. But Kestrel has other intentions.  One day, she is startled to find a kindred spirit in a young slave up for auction. Arin's eyes seem to defy everything and everyone. Following her instinct, Kestrel buys him—with unexpected consequences. It's not long before she has to hide her growing love for Arin.  But he, too, has a secret, and Kestrel quickly learns that the price she paid for a fellow human is much higher than she ever could have imagined.  Set in a richly imagined new world, The Winner's Curse by Marie Rutkoski is a story of deadly games where everything is at stake, and the gamble is whether you will keep your head or lose your heart
The Winner's Curse has been on my reading list for a while. I finally bought it yesterday and I finished it today.   My first impression of this book was, the cover. The old adage warns against judging a book by its cover, but often, the cover is what will draw a reader in and influence whether they will buy or read the book. One thing I liked about this book's aesthetic was the rough-cut pages. I loved the textured feel they give a book so much more than the smooth cut.
I liked the plot of the story. The beginning is more meet-the-cast than actual plot, but then the story picks up. Arin's motives are made pretty clear early on in the book, so it didn't come much as a surprise. I found that this book didn't have too many plot twists, but I didn't mind – it was more of a flowing story than a maze, and I found myself falling into the story. I couldn't easily predict where the story would end up in terms of her loyalties, and that's always something you want in a book.
Personally, I don't have much to say about this book, and whether that's good or bad, I'm not really sure. I liked it. I didn't love it, but I feel like the next book will really amp up the intensity of the concept, with tensions between Arin and Kestrel and the world-shift they, the Valorians, and the Herrani will experience. I'm looking forward to see how it all plays out even more than I was excited for this book.
The characters, I also liked. I liked that Kestrel's strength as a character didn't come from physical prowess (which she wasn't particularly adept in) as it does in some strong female leads, but rather from mental agility and cunning. She's clever, and I like clever girls perhaps more than physically strong ones. She wasn't, however, emotionally decisive. At one point, I literally said out loud, "Woman, make a decision!"
Arin, was a good male lead. He was funny – he gave me a genuine laugh-out-loud moment:
"Jess: Valorians don't have gods, you know.

Arin: Of course you have no gods. You have no souls."
Arin was perfectly likeable, a pretty realistic character, though I did think he conceded a bit too easily to Kestrel. In fact, I think Kestrel does the same thing. One thing I would have liked was for them to stand their ground a bit more firmly, particularly towards the end.
Overall, my feelings about this book are pretty mediocre. Yes, I liked the plot, liked the characters, liked the dialogue. The only thing I really loved was the book design. Hopefully the second book will produce more passionate responses towards me.
Bring it on, Marie Rutkoski.