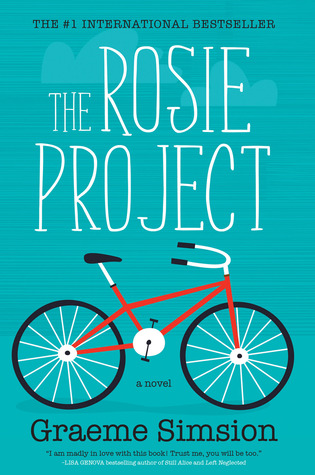 I decided to take a break from the world of fantasy and dystopia. So, I turned to The Rosie Project by Graeme Simsion, which I purchased a while ago.
I originally picked up The Rosie Project because of a Chapters Indigo in-store recommendation. The book was suggested for fans of The Big Bang Theory, which I adore. After reading The Rosie Project, I realize why. Sheldon and Don are close parallels of one another. My initial thought about Don was that he, like Sheldon, had Aspergers, especially when he gave the lecture. But it never came up, really.
Wife Wanted. 

Must be punctual, logical, and enjoy travelling by bicycle. No smokers, drinkers, or horoscope readers need apply.

Don Tillman has a brilliant scientific mind, but social situations confound him. He's never had a second date. And so, in the evidence-based manner in which he approaches al things, he embarks upon the Wife Project: a sixteen-page questionnaire to find the perfect partner. Then in walks Rosie Jarman. 

Rosie is on a quest of her own. She's looking for her biological father, a search that a certain genetics expert might just be able to help her with. Soon Don puts the Wife Project on the back burner in order to help Rosie pursue the Father Project. As an unlikely relationship blooms, Don is about to realize that, despite the best scientific efforts, you don't find love: love finds you. 
Don is a meticulous man, which I picked up almost immediately. He takes ninety-four minutes to clean his bathroom. Not ninety minutes, not ninety-five, but ninety-four. What I thought was really well done was that the initial and prominent fastidious nature of the character didn't become overbearing, as it easily could have. His precision was fused into the narration so that it wasn't annoying. Don was a great main character, written brilliantly. I could hear his calculated thoughts as if they were my own, and when others mocked his intonations, I knew exactly what it would sound like! However, I do wish that we could have seen more of his behaviour before Rosie altered his world. I feel like I entered Don's life right when little bits about him were becoming more adaptable and if I was reading from Rosie's side, this might have been okay, but I wasn't. I was watching over Don's shoulder (hopefully that doesn't sound creepy) and I wish I could have seen the unyielding, schedule-is-my-life side of Don.
I didn't feel as much as a connection to Rosie. I liked her character and she definitely had some hilarious moments (my favourite was at the faculty ball), but I didn't feel as connected with her as I did with Don. The entire book could have been about Don and I would have been equally ecstatic.
The Rosie Project gave me more than I expected in terms of plot. It's a little hard to explain – it felt, to me, to be about the Father Project but about more than the Father project, all at once. I sat baking in a hot car because I didn't want to move and disrupt my reading. I want to say that there's something left out of the description in terms of plot, but when I reexamine the events of the book, there isn't. Perhaps Graeme Simsion just infused the plot with such depth that I feel like so much more happened than what actually happened. Towards the end, the Don Project is initialized, but maybe it began much earlier. Maybe the Wife Project and the Father Project and the Rosie Project were all part of a bigger Don project – one that he only consciously realizes much later.
At one point, tears sprung into my eyes because I connected so strongly to what Don was feeling. I could imagine the ache in his throat and the twist in his stomach when he "pulled off the jacket, the item that had made me temporarily acceptable in a world to which I did not belong, and threw it in a rubbish bin." I think we all know what it's like to try so hard to fit into somewhere or with someone just because we feel like that's what we're supposed to do. I know especially. As an introvert with a very low tolerance for social gatherings and meetings and interactions in general, I know firsthand how terrible it feels to try and conform yourself – especially when it doesn't work out. As a Canadian who would use the term garbage bin the word rubbish stood out to me all the more – that to try and mask your true self is rubbish, poppycock, and foolhardy. I realized then that, whether he intended to or not, Graeme Simsion had took a stand on conformity and whether it can bring you happiness.
Overall, if you're looking for the perfect summer read, or something with a great laugh, then The Rosie Project is your next task. Grab a margarita or cold beer, find a sunny spot and read this book. I guarantee that no threat of sunburn will keep you from turning the next page.