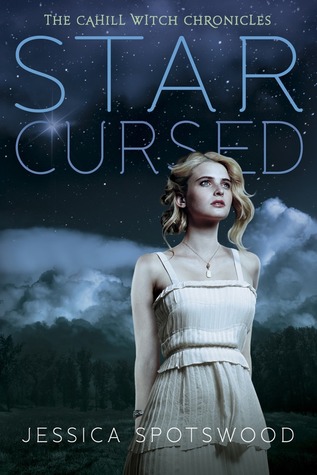 After several interrupted attempts, I finally got around to reading and finishing the second book in The Cahill Witch Chronicles, Star Cursed by Jessica Spotswood. 
I loved the first book in the series. It combined two things I love: fantasy fiction and historical fiction. Set in the 1800s, about a trio of sister witches, Born Wicked was a book I thoroughly enjoyed. Star Cursed was no different.
My initial thought going in was please let Finn reappear soon. Page five, would be ideal.
With the Brotherhood persecuting witches like never before, a divided Sisterhood desperately needs Cate to come into her Prophesied powers. And after Cate's friend Sachi is arrested for using magic, a war-thirsty Sister offers to help her find answers—if Cate is willing to endanger everyone she loves.

Cate doesn't want to be a weapon, and she doesn't want to involve her friends and Finn in the Sisterhood's schemes. But when Maura and Tess join the Sisterhood, Maura makes it clear that she'll do whatever it takes to lead the witches to victory. Even if it means sacrifices. Even if it means overthrowing Cate. Even if it means all-out war.

In the highly anticipated sequel to Born Wicked, the Cahill Witch Chronicles continue Cate, Maura and Tess's quest to find love, protect family, and explore their magic against all odds in an alternate history of New England.
One thing I liked about this writing style was that it seems like Cate is addressing me, as the reader, and is actively telling me the story, rather than the story happening with me simply as an observer. I find that sometimes in first person perspectives, although we do have the benefit of feeling like this is happening right now, we may not feel like we're standing among the characters, with them. Jessica Spotswood does a beautiful job of putting the reader right there, so that I feel the anxiety when the Brothers arrive, I feel the tension right here right now, and I feel like I'm spying on all of Cate and Finn's delicious moments.
As always, Cate and Finn are a magnificent couple. Finn's bookish charms flows so well with Cate's graceful appeal. Although they both have changed – neither of them is in the same position they were in the previous book. Cate's had to make a huge sacrifice on her self, and right off the bat, we're reminded that she's not the same old Cate: "The old Cate Cahill would have taken Alice to task, but Sister Catherine only helps Mei unpack…" I like that Cate's changed though. It shows character development, which is so important for all characters. I also like that her development is spanning across the series.
One character's development I did not like was Maura's, because heaven and earth she irritated the hell out of me! In the first book I related to her a bit as a fellow middle child and ardent reader of romances, but in Star Cursed she is positively horrid. I wanted to cast a spell on her that would permanently shove her butt into her mouth so she could personally taste the crap that she was spewing. I could not believe the things she had the audacity to say and do and I wanted to yank her corset strings until she dropped into a dead faint.
Other than Maura's irritating developments, I really have no complaints about the book. The writing was great. This was my process in reading this book: Start at the top of the page – Oh! Wait, what is that word my eye just caught on? Oh my gosh, what is happening on the next page?! Finish this page first. FINISH IT! Oh man, I'm skipping over lines. Take it easy…Oh screw it, I need to know what is about to happen!
At one point I had to physically move from my seat and take up a new one just to prepare myself for what was about to happen. I kid you not.
The plot flowed really well. I never felt that there was a time when nothing was really happening, and I had a hard time finding a place to stop so I could go to bed. I flew through this book because my mind entered into their world. I saw the brocade dresses and the black boots, I felt the cold of the convent and the snow kissing my nose as if I was there. Call me crazy, lock me up in Harwood, if you will, but a good book will do that to you. Star Cursed is one of them.
There were no major OH-MY-GOSH moments until the end. Until the end when I had to put down the book to reassure myself that no she didn't. No she did not. She did not. But then I had to pick that book back up and realize that she had. She truly had. She had done something that would forever ruin that precious something and it was something that I am impossibly, (almost) unspeakably furious about.
So even with that OMG moment, the book doesn't end on a big cliffhanger as I expected it would. As I got nearer and nearer to the end, I got more and more anxious, wondering when the big moment would come, the heart-stopping, jaw-dropping, searching-for-more-pages moment would come. It didn't. That was a little disappointing, but not terribly so. I was given enough that I know I need to buy the third book, Sisters' Fate as soon as it releases on August 14 (of this year, thank goodness, not a long wait for me) and there's that pesky little problem (gross understatement) I'm DYING TO SEE FIXED IMMEDIATELY. However, we were left with these lovely words on page 366, which I loved the most in the entire book:
Countries are forged by war; perhaps girls are, too.