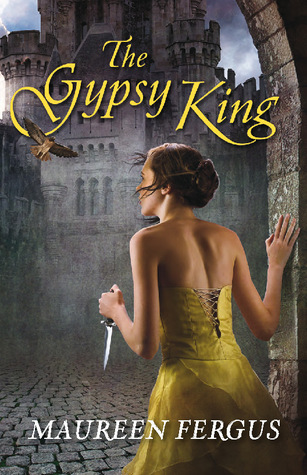 Maureen Fergus hypnotized me with The Gypsy King. Honestly.
I hadn't expected to like it as much as I did, but by the end of chapter one I was hooked. Forget about the endless school readings, essays and assignments I had to do – I needed to know what happened to Persephone and that handsome fella Azriel.
A runaway slave with a shadowy past, sixteen year-old Persephone has spent four long years toiling beneath the leering gaze of her despised owner and dreaming of a life where she is free to shape her own destiny. then one night, a chance encounter with a handsome chicken thief named Azriel changes her life forever.

Sold to him for a small bag of gold coins and a pretty piece of stolen jewellery, Persephone soon discovers what she already suspected: namely, that Azriel is not what he seems. And when she discovers what he really is – and who he believes her to be – she is determined to escape him and his impossibly broad shoulders.

But things are no longer as simple as they once were.

Torn between her longing for freedom and her undeniable feelings for the handsome thief with the fast hands and the slow sole, Persephone faces the hardest choice she will ever have to make.

And no one – least of all her – could have imagined the shocking truth her decision will reveal.
When I read this in the Chapters bookstore, I actually laughed out loud at the chicken thief mention. It was just so hilariously and awesomely random, that I had to. The entire book experience was like that: I fell into loving this story, and there was nothing I could do to stop it. Maureen Fergus was a wonderful delight and the way she wrote, she pulled emotions out of me so that at times I had to physically stop to shudder or scream or swoon.
The characters and their motivations were so real and that one thing that really made me love the story. Mordecai especially made me feel all kinds of things (and trust me, when you meet him, you'll know what I mean) and I actually sympathized with him, even though I shrank away from him at the same time. And Azriel, oh Azriel. I can't…the words escape me right now.
The book ends on a cliffhanger, since it's the first in the series. The end wasn't too terribly shocking, but it leaves enough that you need to read the second book and see how the adventure and plot twists and changes.
This book is set in a dystopian society, seemingly in the past rather than the future. The world-building isn't an elaborate conjuring, but it is a distinctively different book.
It is a new love of mine, and I lovingly caress it every time I pass my bookshelf. Go out and buy it now!! You'll lose a couple of hours of your life, but in exchange for Azriel? It's a steal.